SPOTLIGHT ON THE CHAUVET EZPAR 64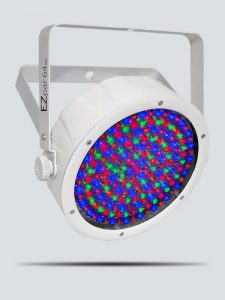 Uplighting is a great addition to any event. It creates a powerful lighting effect that can transform an ordinary banquet hall into sleek and modern space.
Choosing the right lighting for your event can be a difficult task. There are a wide range of companies and products to choose from. Goodley Entertainment Group are experts when it comes to event lighting having provided solutions to thousands of clients over the last thirty years.
Lighting options have changed drastically over time. Recent innovations in L.E.D. technology have allowed more flexibility than ever before. Goodley Entertainment Group offers a variety of uplighting packages using the Chauvet EZpar64 uplights, one of the most reliable L.E.D. options available.
---
"The EZpar 64 RGBA is a battery-powered wash light designed to free the mobile entertainer from the hassle of running cables, and speed setup. The rechargeable lithium-ion battery lasts up to 20 hours on a single charge and powers all 180 red, green, blue, and amber LEDs to deliver stunning colors."
---
Learn more about the Chauvet EZpar64 by watching the video below. Contact Goodley Entertainment Group if you would like to add uplighting to your wedding reception, private party or corporate event.
Categories
Show Less Categories
Archives